Recruitment Information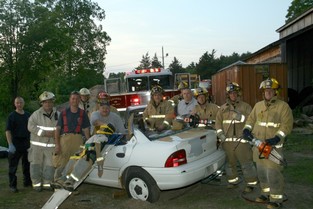 The Granby Fire Department (GFD) iscurrently recruiting individuals who wish to serve the town of Granby in the capacity of Firefighter and/or Emergency Medical Technician (EMT) at all levels.
Those persons who do not have the desire to participate in emergency activities, or who do not meet the physical requirements are also encouraged to enter the department. These members contribute in the areas of fundraising, public relations, public education, administrative assistance or other fire-ground related duties.
Basic Requirements
The minimum requirements to become a call member with the GFD:
Application Requirements
Must be at least 18 years old
Valid Massachusetts drives license
Background check
Clearance by physician
For EMT's – must possess current certification or be enrolled in MA OEMS program
Time Commitment & Training Requirements
Two department training sessions per month
Occasional Saturday training
Respond when available
Participate in department and community activities
Firefighters will be required to attend one of two possible Firefighter programs.These classes are held some weekday evenings and some weekend days.
Benefits
Supporting your community
Financial compensation
Neighbors helping neighbors
Learn new skills
The personal rewards and satisfaction received from the fire and rescue service are beyond description. There is a great sense of accomplishment and pride for helping those in need.In addition to a desire to help people, you also need dedication, assertiveness, and a willingness to face new challenges.
The GFD provides its members with a family-like environment for everyone. Our members are students at local high schools, universities and colleges, are certified professionals in a multitude of industries, and work for both public and private organizations. Our members come from a wide range of backgrounds and bring many skills and experience to the department.
How to Join?
For additional information or to obtain an application package and CORI request form, please visit the Granby Fire Department office located at the Granby Public Safety Complex between 6 am- 6 pm seven days a week. Thank you for your interest in the GFD.